Optical Glass Discs and Encoders for Follow Spot Systems, Gimbals and Camera Stabilization
Our advanced technology and precision engineering ensure optimal performance and precise control over your lighting fixtures and camera equipment. Let's explore the key features and benefits of our encoders and optical glass discs:
Encoders and Glass discs for Follow Spot Systems: Our encoders can be specifically customized for follow spot systems, enabling accurate and responsive control over the direction and movement of the spotlight. With our encoders, you can achieve precise positioning, smooth transitions, and intricate lighting effects, enhancing the overall visual experience of your performances. Our encoders offer high resolution, digital communication capabilities, intelligent feedback, and enhanced durability, making them ideal for demanding live events and entertainment productions.
Key Features and Advantages of our products that can be used in the entertainment industry:
High precision: Our encoders and optical glass discs offer outstanding accuracy and repeatability, ensuring precise control and smooth operation.
Advanced technology: We incorporate the latest advancements in encoder technology, including higher resolution, digital communication protocols, and intelligent feedback, to meet the demands of modern applications.
Durability: Our encoders and optical glass discs are built to withstand rigorous use and challenging environments, ensuring long-lasting performance and reliability.
Easy integration and flexible adjustments: Our products are designed for seamless integration with your existing follow spot systems, gimbals, or camera stabilizers, making installation and setup hassle-free.
We are committed to delivering top-of-the-line encoders and optical glass discs that meet the needs of professionals in the entertainment industry. Our products undergo rigorous testing and quality assurance procedures to ensure their performance and reliability. Experience the difference that our encoders and optical glass discs can make in your follow spot systems, gimbals, and camera stabilizers. Contact us today to learn more about our products and how they can elevate your lighting and filming capabilities.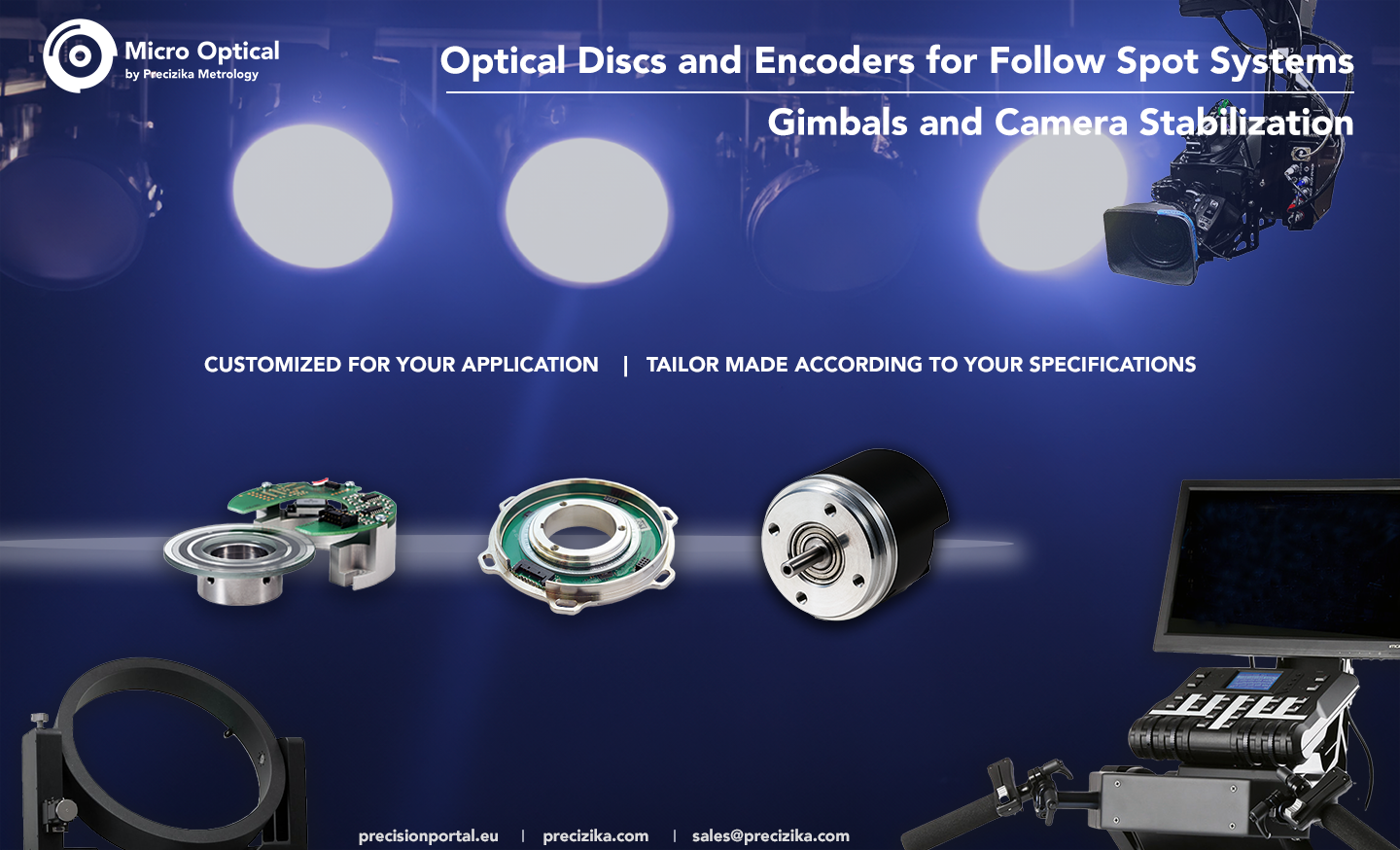 Already for 60 years our company is giving our customers competitive advantage by providing state of the art customer-specific micro-optical solutions, glass discs is one of our strengths. Our process flexibility allow us to make orders from small to large quantities for any specific customer request. Depending on selected glass, discs are available in up to 400 mm diameters and a variety of pattern specifications depending on the requirements. We have supplied glass discs to different industries including medical equipment, factory automation, radars, encoders, military and defense, etc. If any of this seems interesting, please do not hesitate to get in contact with us or just order a free sample!
Order Your Free Sample